The famous Sri Chowdeshwari Devi is presided in Cholasamudram village of Lepakshi Mandal, Anantapur District in Andhra Pradesh State. People believe that Goddess Parvathi is residing in form of SRI CHOWDESHWARI DEVI.
The main shrine in the temple is made up of "Gachu" and applied colors. The statue is around 8 feet in height. The
deity in the temple is sculptured on the big dais. The shrine is very fury with 4 hands. Right hands with "Trisulam" & "long sward" and "Dhamaruka" & "Kunkuma Bharine" with left hands. Demon heads are under her feet. People believe that Goddess
Parvathi
is residing in
form
of SRI CHOWDESHWARI DEVI. So, many Royal families from ancient days worshipped Chowdeshwari with great devotion. Sri Krishnadevaraya's consort Tirumaladevi prayed many gods and visited many holy temples for male child. Tirumaladevi after praying at Cholasamudram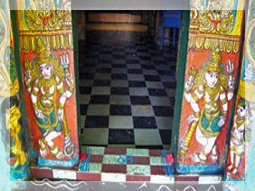 Chowdeshwari devi, she then send their able prime minister Timmarusu's son Kondamarusu for performing special puja on behalf of queen Tirumaladevi. Tirumaladevi blessed with son by Goddess Chowdeshwari . Inscriptions on the stone in the temple witnesses this incident. Entrance pillar to the temple has two dwarapalakas. Next to dwarapalakas pillars, there are two sculptures which are "Kapari" and "Pujari". A Kapari (Guard) is on right side pillar holding a Ayudha for guarding the temple. On the leftside pillar Pujari (priest) carrying jewellery box of Goddess and a temple key in his hand.
The Utsvamurthy idol is made up of Bronze which is kept in the temple in the Garbhagriha. Utsava vigrahas are taken for Procession (Ooreginpu) on important festival days like vijayadasami, Durgastami. Devotees worship goddess by presenting sarees. Plenty of sarees are kept in a corner as you can see in the picture. Managing Committee is planning to distribute the sarees to the needy.