Sri Sri Chowdeshwari Devi Temple
The famous Sri Chowdeshwari devi is presided in Cholasamudram village of Lepakshi Mandal, Anantapur District in Andhra Pradesh State. Temple is located right next to cholasamudram bus-stop. The temple is nestled between the picturesque road at 8th KM connecting Hindupur and Temple town of Lepakshi. Goddess Chowdeshwari, in her most furor form who is believed to be the incarnation of Parvati Devi, the consort of Lord Shiva. People strongly believe that the Goddess helps them in fulfilling their needs, the great example being Queen Tirumala devi Wife of The king of Kings Sri Krishnadevaraya of Vijayanagara empire was blessed with Son after seeking blessing of Goddess Chowdeshwari.
Sri Chamundeswari Temple is considered to build in A.D.1336 by Raja's Harihararaya-Bukkaraya, in the reign of Vijayanagara kingdom, close to 700 years.
It is said that the actual deity that was present in the temple was so fearful to watch with the human eye and the powerful aura it carried made many a heart fail on seeing it. Therefore, a slight adjustment in her eyes of deity will be made during alankara, to enable the devotees to have to look the goddess without fear.
The goddess is "Kuladevatha" for weavers community (Nese / Thogata) and the temple priest also from the same community. Great number of devotees spread around districts of AP and Karnataka besides devotes from all over the south India.
Famous festivals celebrated here are Dussehra, Ugadi and Durgastami (Durga puja).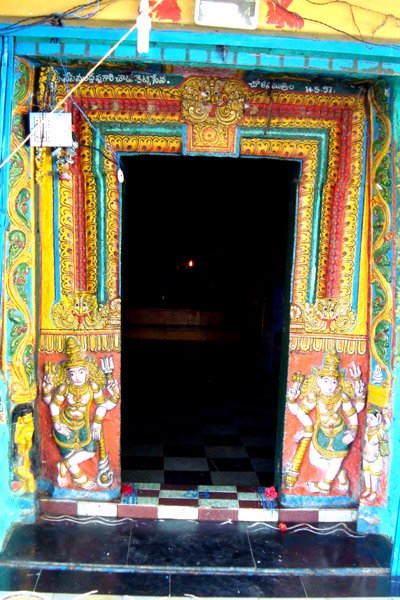 Temple is open to devotees 365 days a year, from Morning 6:30AM to Evening 8:00PM.
Temple priest resides within the temple premises in priest quarters.
Very good water facility with handpump and watertank is available. Also Very good kitchen available. Facility to stay in the temple for devotees also available.
Ample parking place is available. Shops available right next to the Temple. The entire Temple premises are well lighted. Devotees can perform any kind of functions in the temple premises.
By Air:
Bengaluru International airport, Devanahalli is the nearest airport which is 109 km away from Cholasamudram, around 2 hour journey.
By Train:
Hindupur Railway Station is Located just 8 kms away from the temple.
By Bus:
Temple is well connected to all neighboring towns and cities by Government and Private owned buses.
Chowdeshwari Temple in Cholasamudram is located just 5Km (10minutes drive) from world famous Lepakshi Temple, on the way to hindupur town.